You can't go wrong with the classic peanut butter and jelly duo. They make for an easy-to-whip-up lunch or after-school snack. And while dogs can't have jelly (it's loaded with sugar and other harmful ingredients, after all), they can have blueberries. Blueberries are a healthful, hydrating treat high in fiber, vitamin C and vitamin K—and they're one of the stars of this no-bake peanut butter and "jelly" dog treat.
Requiring just five ingredients, this homemade peanut butter dog treat is packed with protein and so easy to make. But what we love most about this recipe is it's safe for humans, too. That's right, they're just as tasty for doggie and dog mom to enjoy—and that's according to the recipe developer herself Brittany Mullins, creator of Eating Bird Food.
"They taste so good just as the recipe suggests making them, so no tweaks are needed," Mullins says. "I also love that the recipe makes a large batch, so there's plenty for everyone to enjoy!"
Gather your supplies (including dog paw and/or dog bone cookie cutters) and your fur babies (every chef needs a sous chef), and let's make dog treats!
As with any human food, pet parents looking to incorporate new foods in their dog's diet should consult with their veterinarian beforehand.
No-Bake Peanut Butter and 'Jelly' Dog Treats
Yield:
approx. 16 treats
Serving size:
½-1 treat
Prep time:
15 minutes
Total time:
35 minutes
1 ¼ cups rolled oats
½ cup natural peanut butter (make sure it doesn't contain xylitol, as it's toxic to dogs)
¼ cup honey
¼ cup dried blueberries
2 tablespoons chia seeds
Pinch of salt (omit if your peanut butter is salted)
Large mixing bowl
Dog paw and/or dog bone cookie cutters
Parchment paper
---
Instructions

1
Place all ingredients in a large bowl and stir together well to combine.
Let dough sit out on the counter for about 20 minutes to let the oats absorb some of the moisture. This will make it easier to work with.
2
Pinch off a portion of the dough (about 1 tablespoon) and roll into a flat disc. Or press the dough down on a parchment-lined surface and use a cookie cutter to get the desired shape.
Continue with this method until you use all the dough.
3
Place treats in an airtight container, using parchment paper between layers so the treats don't stick together.
Serve these treats right away or store in the fridge.
Why can't I roll these treats into balls?
Treats for dogs should not be rolled into balls, as these can be choking hazards. Tablespoon-size flat rounds or shapes, like bones or paws, are preferable.
How Much to Serve Your Dog
As you would with any other treat, serve your pooch a small amount. Treats should only constitute a small percentage of your pet's daily dog food. We're talking no more than 10 percent of your pet's diet (and if your pet is overweight, even less than that).
For example, if your pet needs 600 calories per day, they should have no more than 60 calories from treats. Feeding too many treats can lead to nutrient deficiencies.
That said, one no-bake treat (in a batch of 16) is approximately 100 calories.
How to Safely Store These Dog Treats
To ensure proper food safety, refrigerate prepared cookies and consume within 3-4 days or transfer to a freeze-safe container and store for up to 1 month.
Store-bought Treats to Take on the Go
Between batches of these irresistible no-bake treats, make sure you have other protein-rich treats on hand for your pooch. Here are some popular options.
Meet Brittany Mullins of Eating Bird Food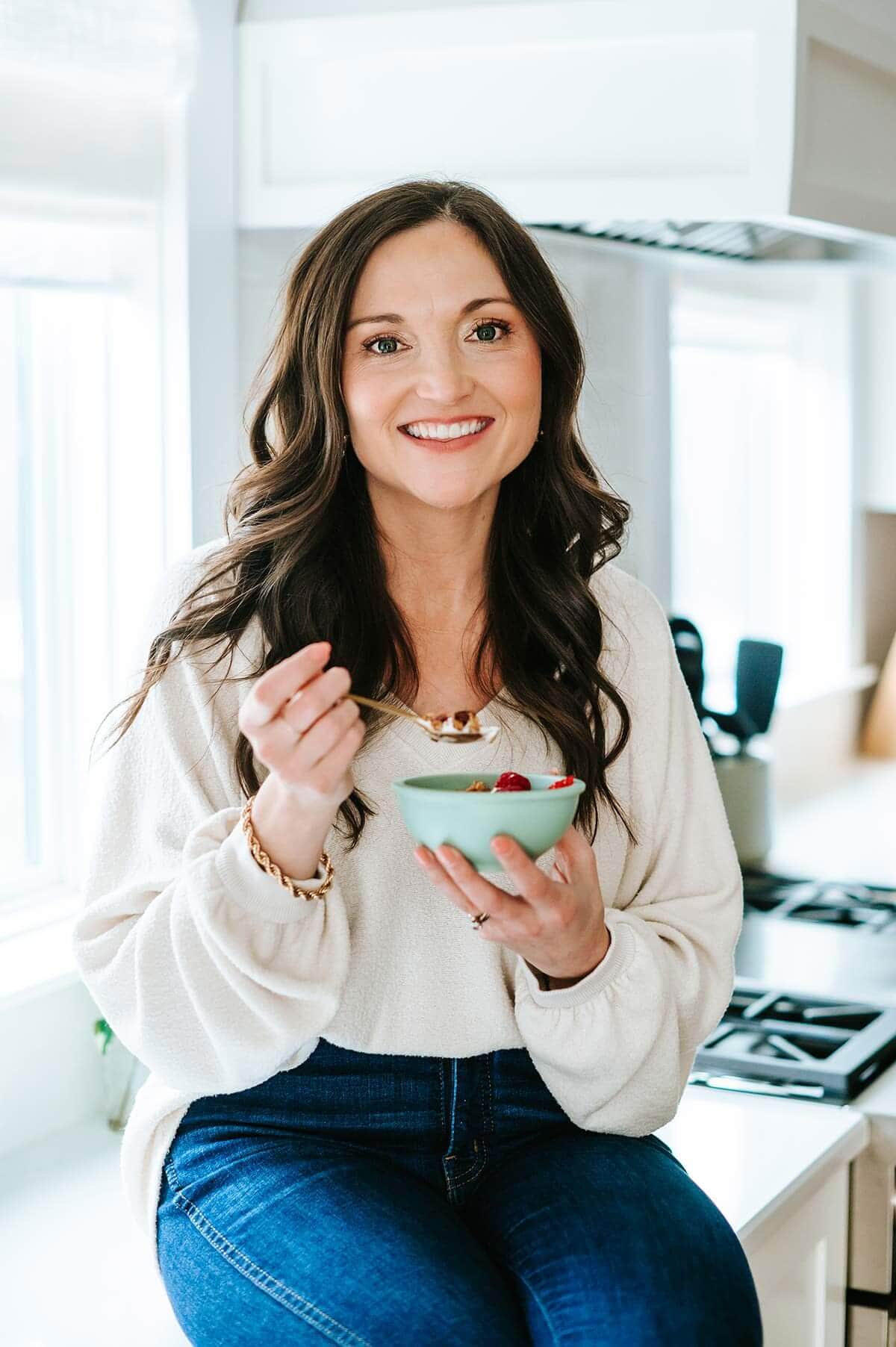 Mullins is a holistic nutritionist—and no stranger to embracing real foods (those without labels) to whip up healthful meals. Many of her recipes are naturally vegan, gluten-free, paleo or low carb; and she makes meals for her entire family—including her 14-year-old Yorkshire Terrier Olive.
"Despite her age, she's tiny and still pretty spunky, so people often think she's a puppy," Mullins says of Olive. "Her favorite dog-friendly human food is peanut butter."
Olive also loves these no-bake bites.
"Oh my gosh, yes! She can't get enough of them," Mullins says.
Check out Mullins' new cookbook "Mostly Veggies."
This recipe was reviewed by a veterinarian. It is intended as a treat or snack. In dogs with a history of pancreatitis or sensitive stomach, it is best to check with your vet to make sure that this is a safe treat for your dog. Any sudden changes to your pet's diet can cause digestive upset.
The post These PB&J No-Bake Treats Are a Protein-Packed Snack for Pups (and Humans!) appeared first on BeChewy.