Show of hands if you spend more time, effort and money throwing your dog a birthday party than your own. Yeah, us, too (and proud of it!). For many of us, celebrating your dog's birthday can be a very involved process: You need the perfect theme, the perfect decor, the perfect (homemade!) birthday cake, and the perfect outfit for your pup to rock on their big day.
There's so much to consider, pet parent party planners might be unsure where to start. That's where this dog birthday guide comes in handy.
Here, you'll find everything you need to make your dog's special day as fun, as delicious and as memorable as possible—whether you decide to keep the celebration low-key with a homemade dog-friendly birthday cake and a special birthday gift, or you go all-out and throw a big, extravagant party with all their friends in attendance.
Dog Birthday Party To-Dos
Wanting to throw a birthday bash this year? Here's a handy list of dog birthday party to-dos, from decorating and baking the cake to choosing their birthday outfit and more. (A few items are linked; click to learn more.)
Serve Treats (pups and parents)
When planning a dog birthday party, decide on the theme first. This could be a color scheme (like
Barbiecore
or
Pantone's Color of the Yea
r) or a certain activity (pamper puppy party, anyone?). Maybe you love watching a specific TV show together (like "Wednesday" or "Yellowstone"), or you want to embrace your favorite music festival (
Pup
chella, FTW). Once you've decided, then you can choose the most appropriate invitations, decorations, treats, outfit and more.
Of course, for any birthday party, you'll want to blow up some balloons, put up some banners and sprinkle the space with streamers. (Skip the confetti, though; curious dogs might eat it.)
Don't stop there: You'll also need a photo-worthy backdrop! You can tape or tack up wall streamers and a banner for an eye-catching backdrop. Or, if you don't have a wall available, build your very own backdrop for your photo booth. (It's easy; we promise.)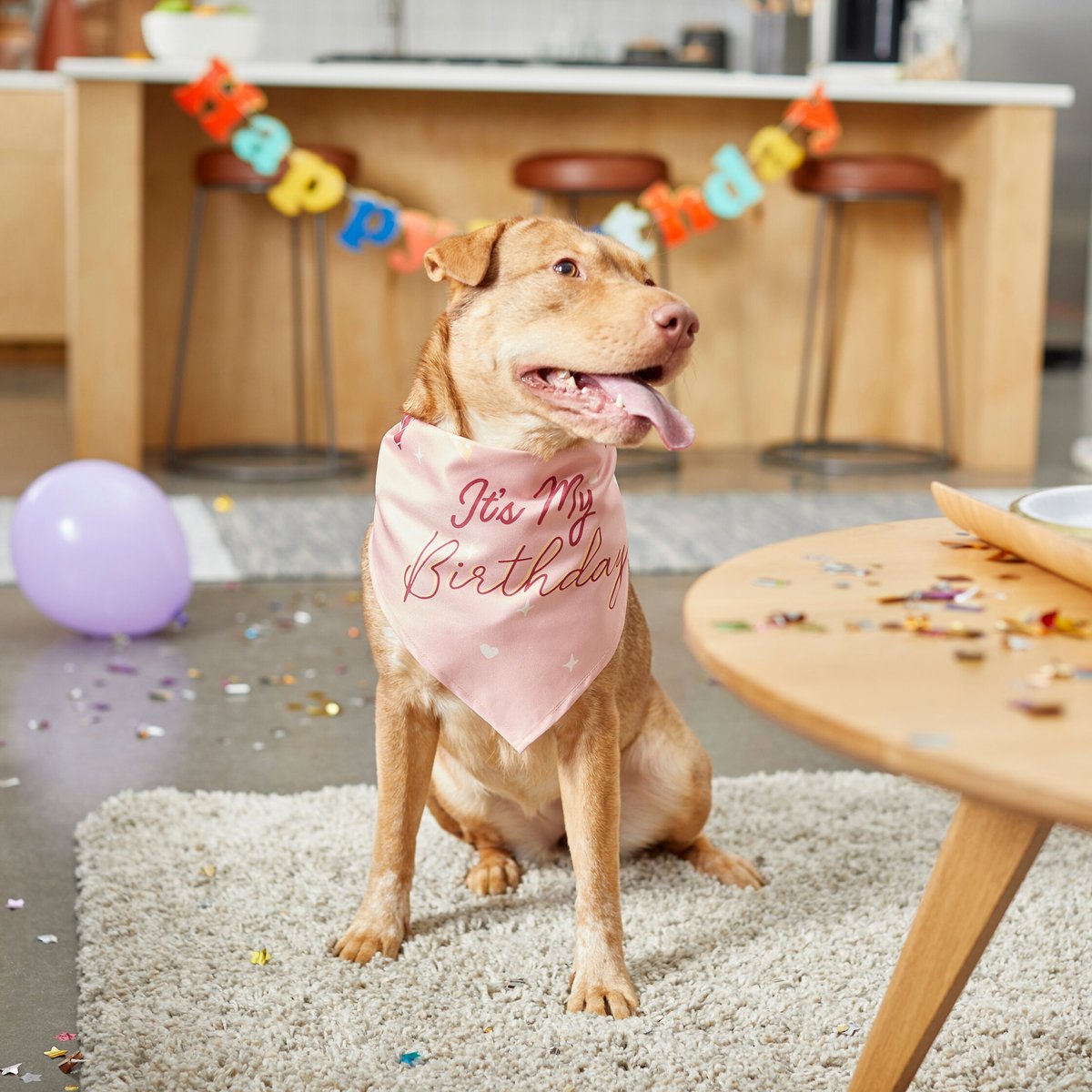 Let the birthday boy or girl shine on their big day with a special 'fit.
Choose from a festive bandana, or, for the dogs who don't mind slipping into something more, pick up a birthday-themed shirt or a head-turning dress.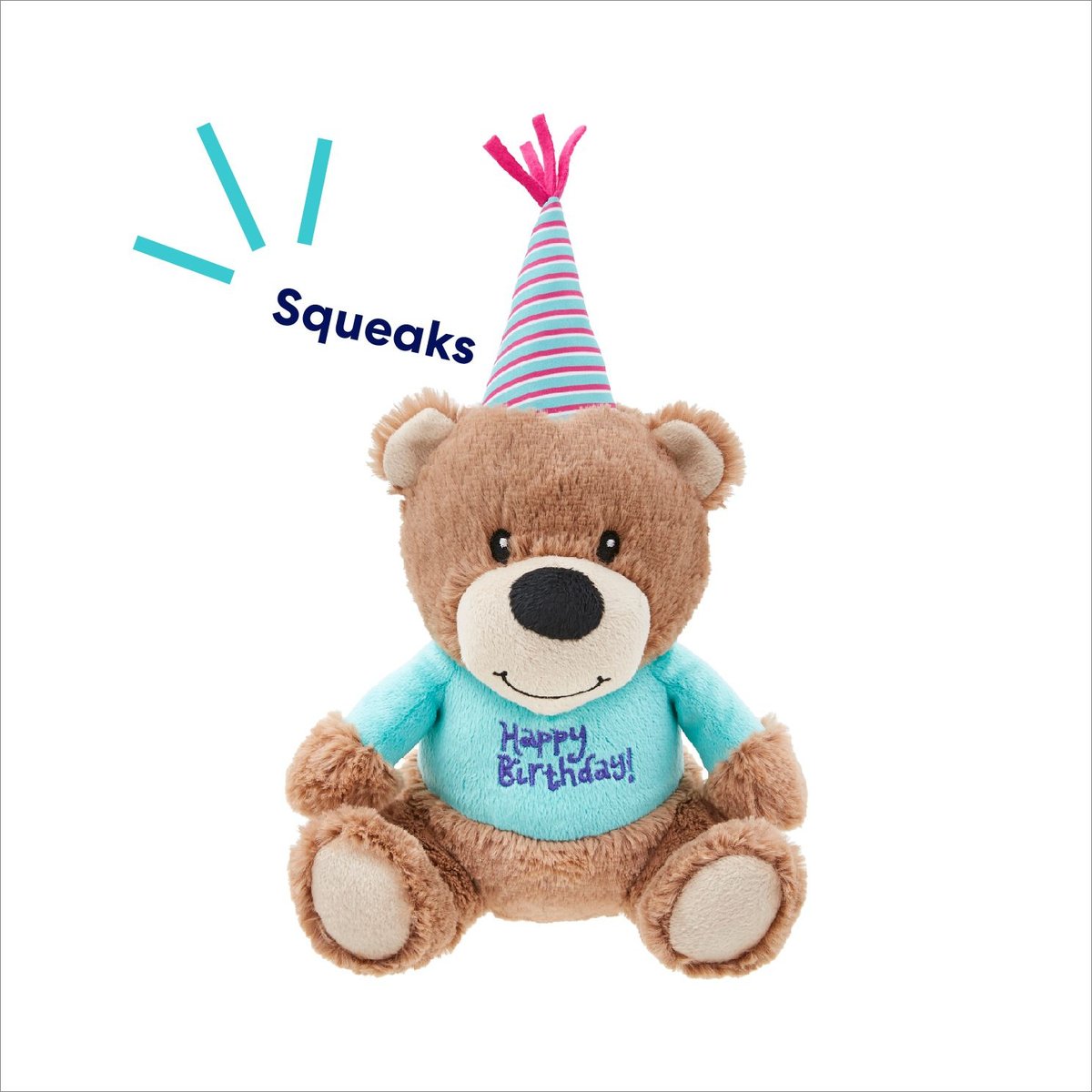 Whether you spoil your pup with their next favorite toy, a bag of tasty treats or a box full of goodies, they're sure to love anything you give them.
Need ideas? We've got plenty of dog-approved gifts to browse: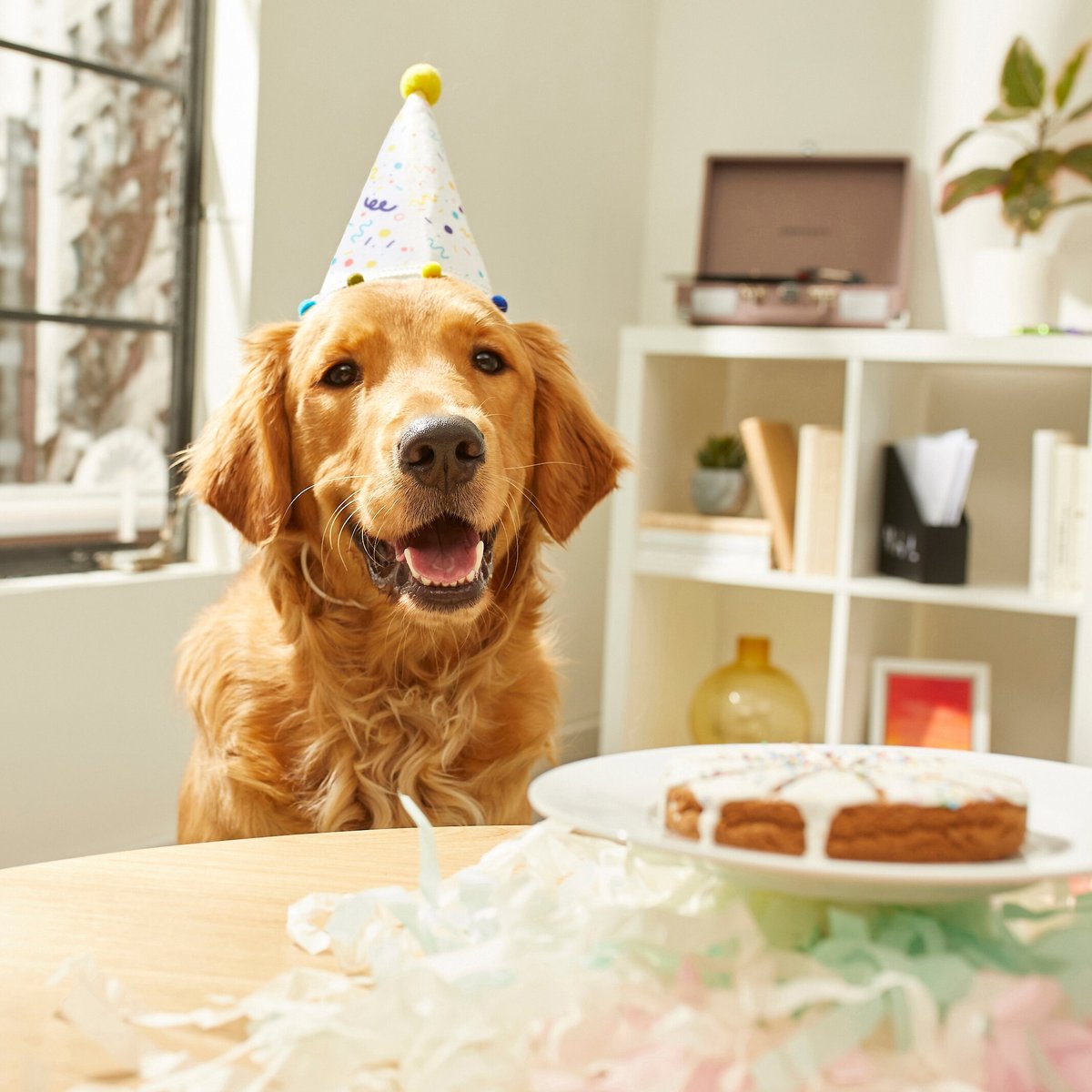 It wouldn't be a birthday without the birthday cake! And we have not one but two birthday cake recipes for dogs:
Treat canine guests to some tasty small bites. From sweet to savory, here are some of our favorite dog-friendly treat recipes:
Don't feel like baking? Save some time and get treats delivered to your doorstep, instead.
In addition to having some toys available for dogs to play with, entertain your guests (both dog and human) with a game or two.
Some party game ideas include:
Play a twist on Pin the Tail on the Donkey called Give a Dog a Bone
Play a round of trivia, where guests must answer questions about the guest of honor
Create an obstacle course
Bob for dog-friendly fruits, like blueberries and strawberries
Play doggy scavenger hunt by hiding treats around the house or yard
Turn your backyard into a dog water park
Have everything you need for the big day? Great! Now, all that's left to do is have a spa day.
For your pre-party pamper, give your pup a facial, massage and/or pawdicure.
Setting up a spa day is also a great idea for those looking for a more low-key way to celebrate your pup.
Did You Know? Birthday Edition!
The number of birthday cards sent to pets last year
The number of pet portraits sent to pets last year
The number of pet birthdays plugged into Chewy Pet Profiles (so don't forget yours!)
Shop Our Favorite Birthday Finds
Finally, it's time for the best part: shopping! We've rounded up some of our favorite dog birthday gifts, outfits, treats and more.
Happy birthday from all of us at BeChewy!
Planning a birthday party for your pup? Have any advice, tips or want to share photos from their party? Drop a comment or tag @Chewy on social!
The post The Ultimate Dog Birthday Guide: Gifts, Recipes and More appeared first on BeChewy.