There's a change that everyone can feel in the air as soon as fall arrives, and this includes your fur baby. After all, there are piles of fall leaves to play in, fall-flavored pet-friendly treats to eat, and pumpkin patches to visit together. And with that change should come an accessories refresh—and we're not just talking about your closet! To get into the autumn spirit, share in the fun by indulging in some fall accessories for pets, giving your furry companions a refresh of their own.
These fall pet accessories can be on-trend for cats and dogs as well, featuring plaids and flannels, classic leaf prints, and on-trends shades, like cream and "digital lavender."
We spoke with two pet parents who know a thing or two about styling their pets, as well as recommend 17 must-have fall accessories for dogs and cats.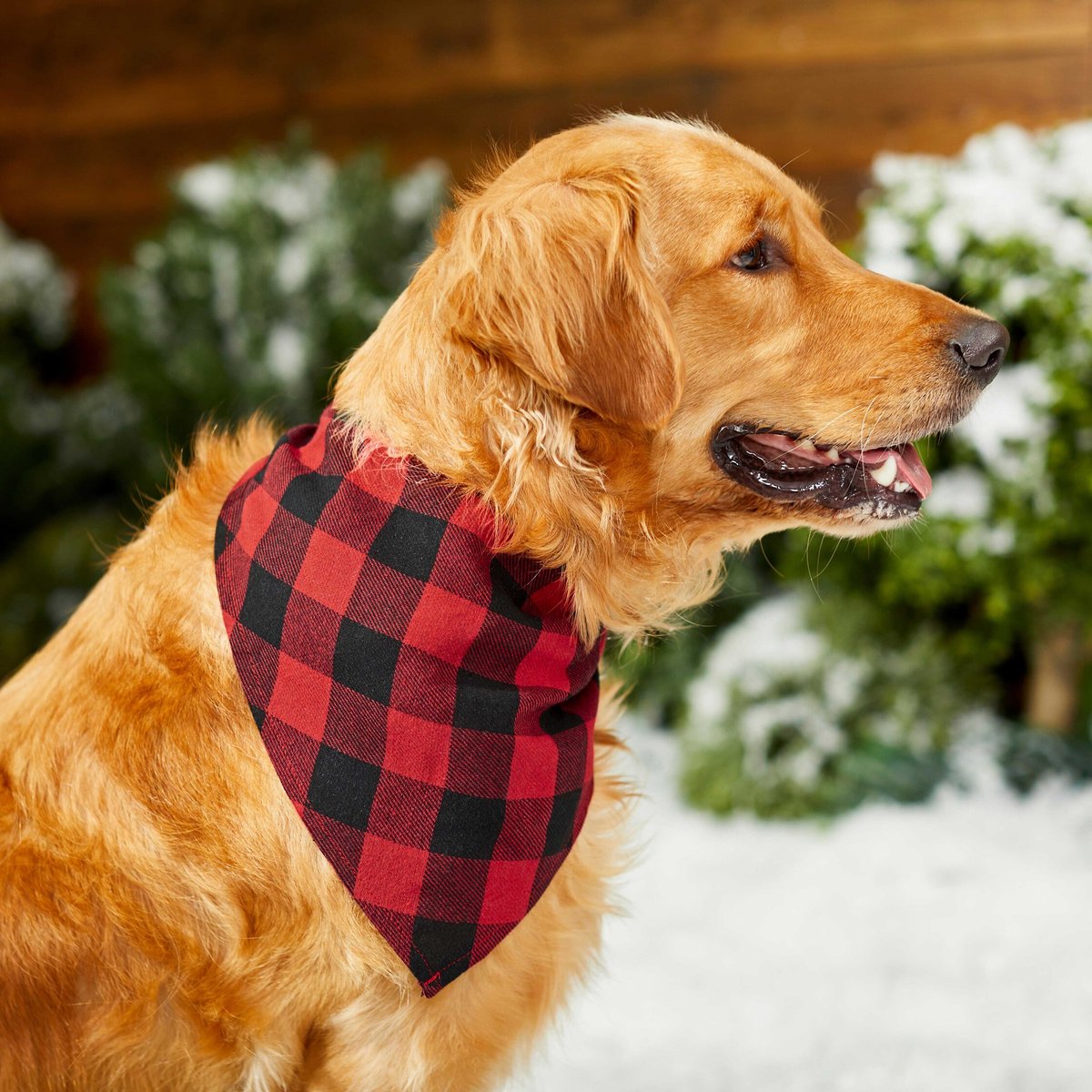 Shop our fave bold bandanas for fall:
While your pup or kitty might have ID tags they wear all year-round, we're big advocates for switching these up for the seasons—and that includes fall. An ID tag refresh will make that fall-themed cat or dog collar look even more adorable.
For our favorite fall ID tags, we went with good ol' buffalo plaid, along with an apple-themed one (aww!).
Weave in even more fall flair with these ID tags: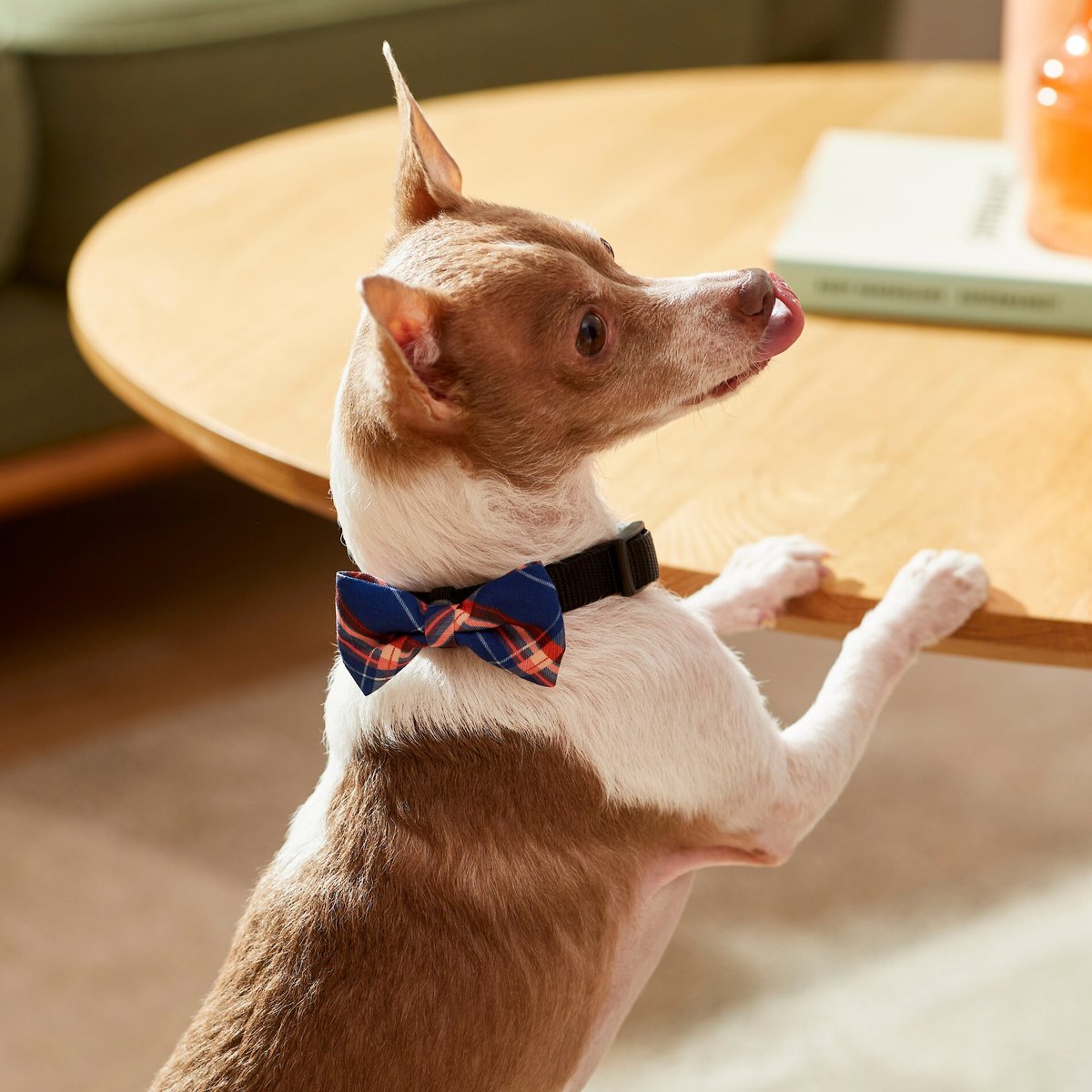 For doggies or feline friends who aren't into dressing up, scale down to a dressy bowtie.
Opt for a velvet, solid color bowtie, like the Frisco Green Velvet Dog & Cat Bow Tie, that'll fits right into the holiday season, too. Or, make it plaid with the Frisco Fashion Bow in blue plaid for that adorable preppy-meets-fall look.
Get snazzy in some fall bowtie bestsellers: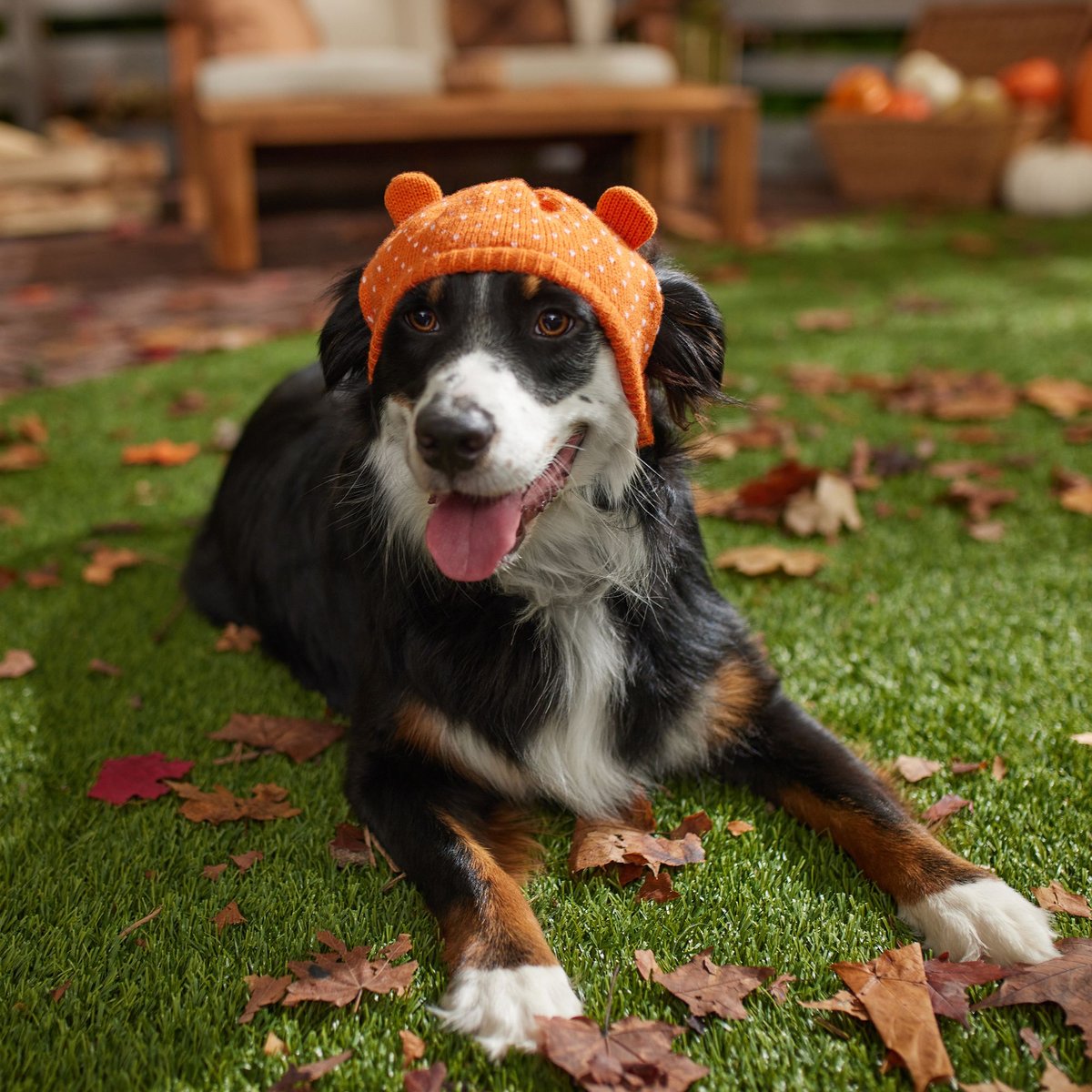 We humans all adore getting out our coziest hats as soon as the weather becomes crisp. Well, we shouldn't leave our cats and dogs out of the fuzzy fun!
Dog hats are all the rage these days, and they come in tons of styles, from rustic plaid and cool color-blocking to ones that have cute "animal ears" on them. Dog parents can dress up their pups in their favorite fall toppers before heading out the door for an autumn walk.
Feel toasty in our favorite fall hats: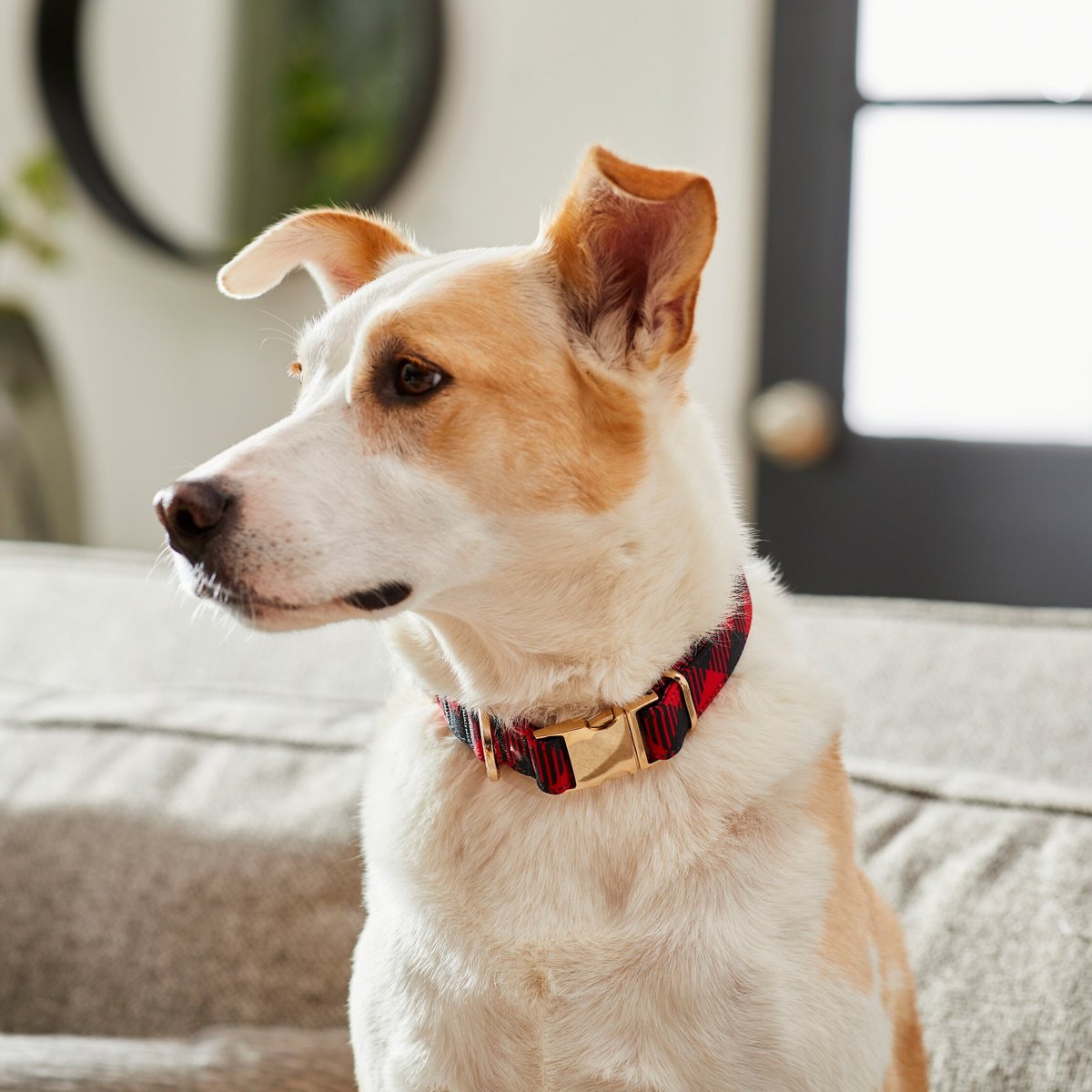 Your pooch or kitty pretty much needs a pet collar no matter what season it is. Luckily, they're super-easy items to swap out at a moment's notice. 
Yena Kim—mom to Luc, a Jindo mix rescue, and his brother Bodhi, a Shiba Inu, of Menswear Dog—says that when it comes to pet accessories for fall, she's shopping for "collar and leash upgrades" as the summer activities have worn out the old ones.
Autumn is the perfect time for refreshing these must-have items, coming in plaids, playful fox print and a color making the fall color trend lists this year, "digital lavender." 
Pick up our coolest fall dog collars: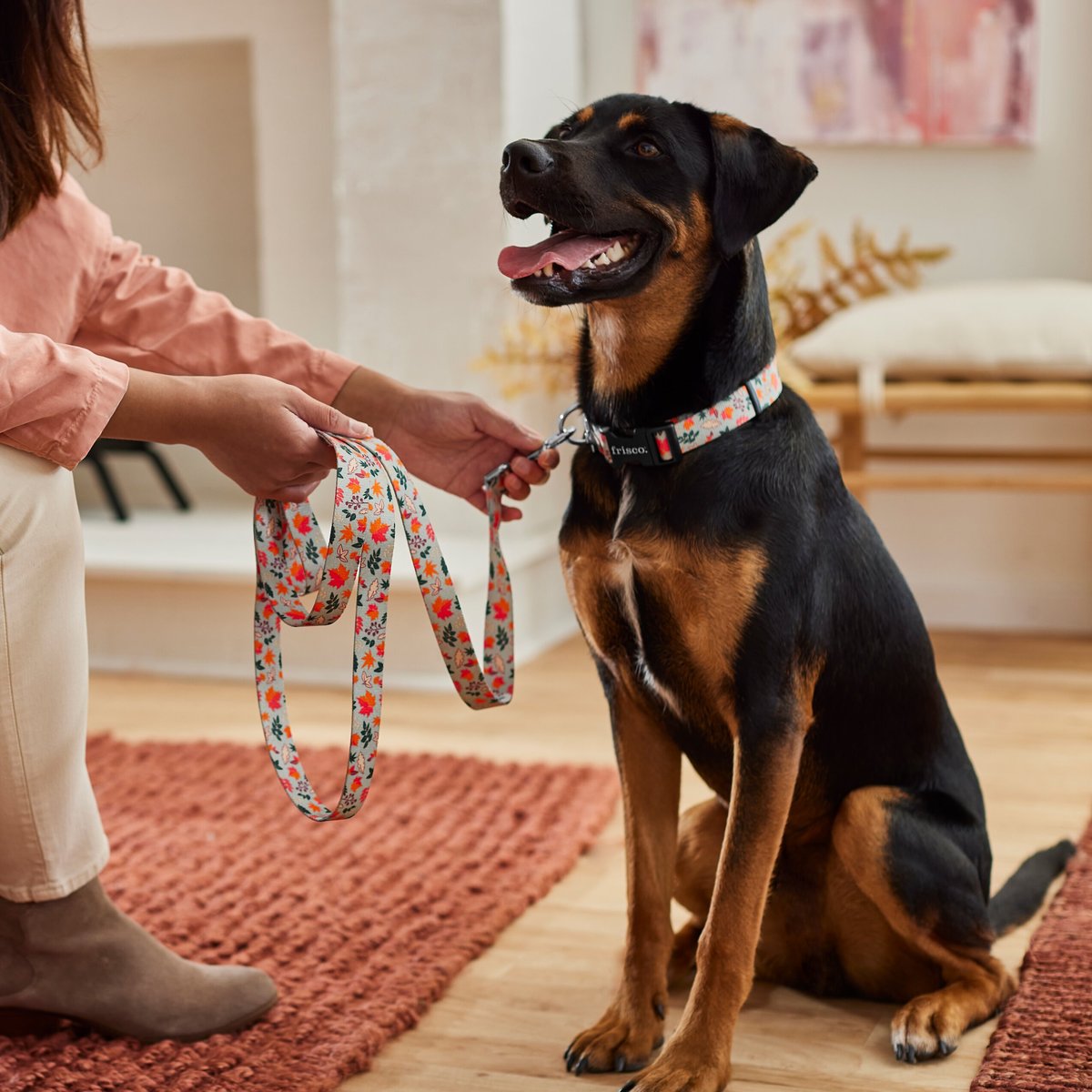 Just like collars, it can be a good idea to switch out that dog leash this time of year, as all that summer wear and tear has likely added up! You can score a fall dog leash that either is neutral and chic with a solid color (get a matching lavender leash!) or embraces pattern (like falling leaves in autumnal hues) and a lighter-hued take on the plaid trend in pink and blue.
After all, you need a leash for stashing those poop bags anyway, so your pooch might as well be fashionable while doing it!
Unleash these leashes for fall:
Have we gotten you excited about the coming change of season yet with these fall accessories for pets? We bet we have, and your pet can get excited along with you!
For pet parents like Kim, the wardrobe refresh doesn't stop at dog accessories, either. She gets the most excited about comfortable, lightweight sweaters for dogs as the weather turns chilly along with fall-themed dog toys, which in her household signals the change of seasons.
You can also show off plaid prints on dog beds, car seats and other pet supplies. That's sure to make things look "fall-like" all around.
Yena Kim, mom to Luc, a Jindo mix rescue, and his brother Bodhi, a Shiba Inu, of Menswear Dog
The post 17 Must-Have Fall Accessories for the Totally Tricked-Out Pet appeared first on BeChewy.