Fall always reminds us of back-to-school shopping: the new sweaters that were always way too warm to wear the first week of school (but we did anyway, because fashion), the smell of new notebooks waiting to be broken in and the fashion-statement backpack. While our "First Day of School" days are behind us, we still love a good backpack. And lucky for us cat parents, they make excellent cat carriers.
Cat carrier backpacks are a safe, stylish and easy way to transport your cat to and from work, school, vacation, outdoor adventures or a vet appointment. And with about 60 percent of pet parents admitting to taking their pet with them when traveling, a cat backpack will always come in clutch.
To help you relive your back-to-school shopping days, we've curated a list of hottest cat carrier backpacks in the season's hottest styles. From Barbiecore to bubble backpacks, these cat carriers are sure to make the grade.
Barbiecore, or hot pink fashion, is all the rage in 2022.
Thanks to a preview of actress Margot Robbie starring as Barbie in the upcoming 2023 "Barbie" film, the doll's classic neon-pink look is back in style—and that includes cat backpacks.
A few of our favorites? They're pink, yes, but they also boast some convenient, super-functional features.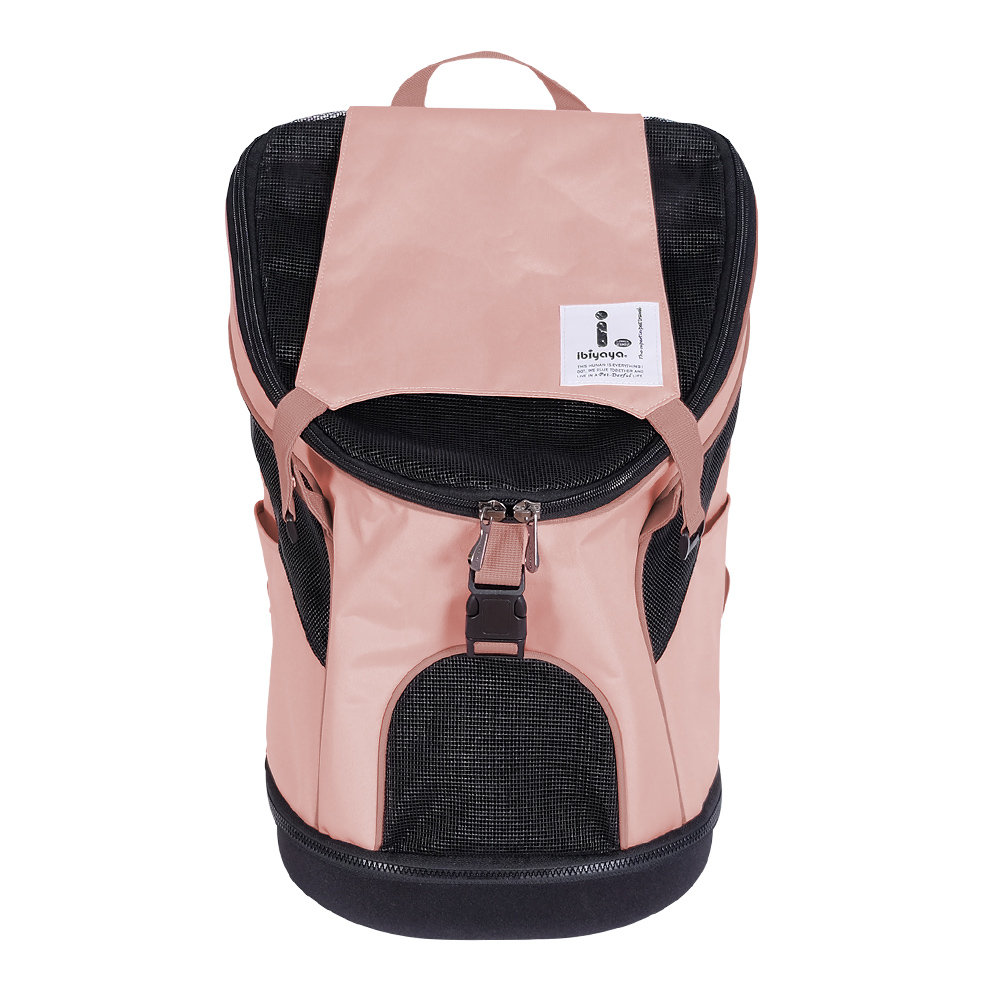 This backpack, for example, doubles as a cat backpack carrier, and it's fabulously pink.
With mesh sides and ventilated windows that maximize air flow, this pet carrier backpack can be worn on your chest or back thanks to its ergonomic support.
Great for travel cats, Ibiyaya's pet backpack carrier is airline-approved.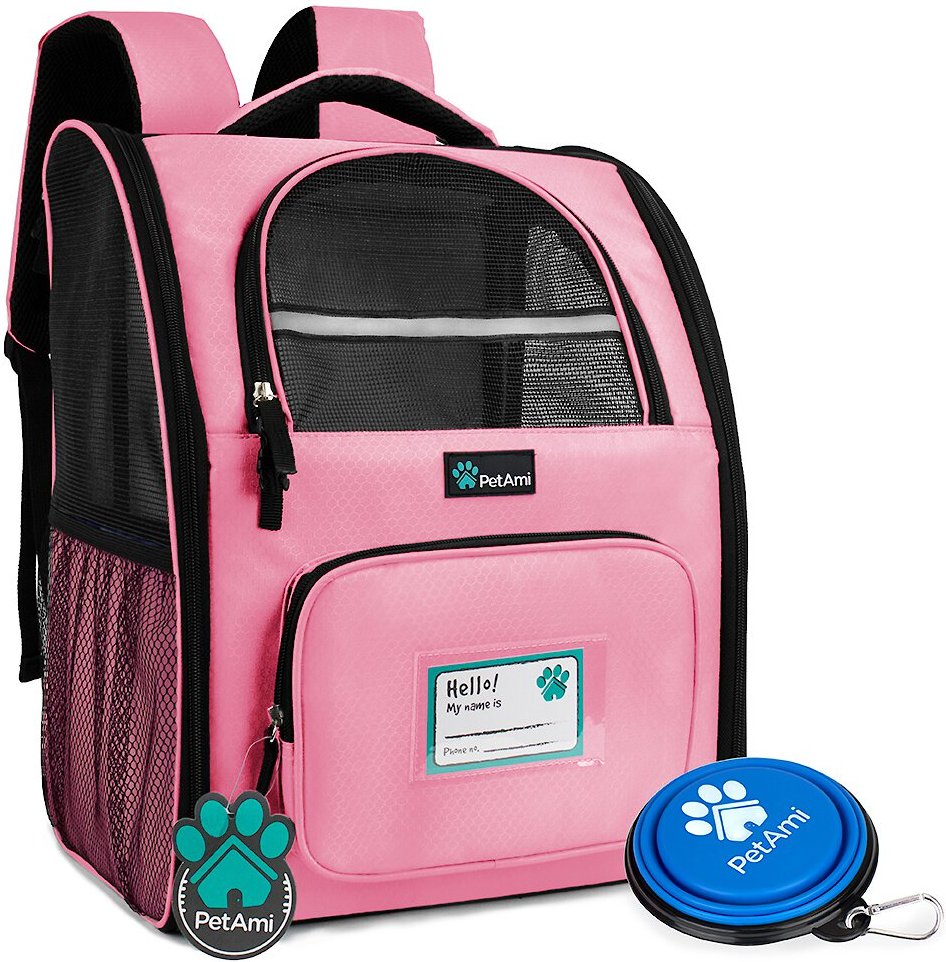 Made for feline friends on the go, this high-quality pet backpack carrier has plenty of ventilation to keep your cat cool.
Its safety features also include a reinforced structure that helps prevent the backpack from collapsing, especially during long journeys by train or plane.
While this is one of the best cat backpacks available for medium-sized cats, it can also be used for cats up to 18 pounds.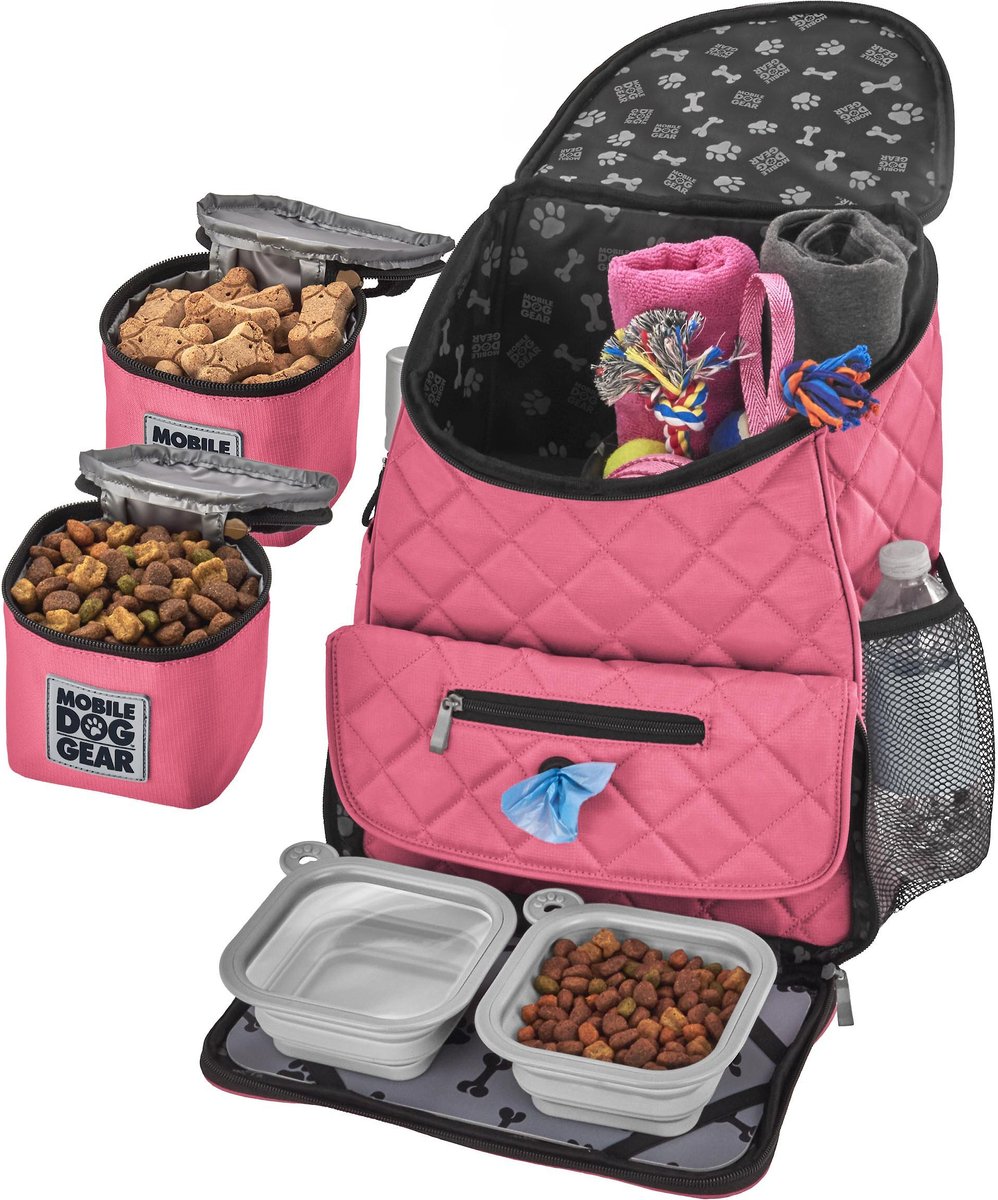 OK, so Mobile Dog Gear's Weekender Backpack is not technically for carrying cats, but it's the perfect bag for all their stuff, especially for camping trips and long weekends.
Cat bubble backpacks are a hot item this year. Who are we kidding? They're irresistible every year.
Not only are they extremely cute for cat lovers to wear, but furry friends love the birds-eye view just as much.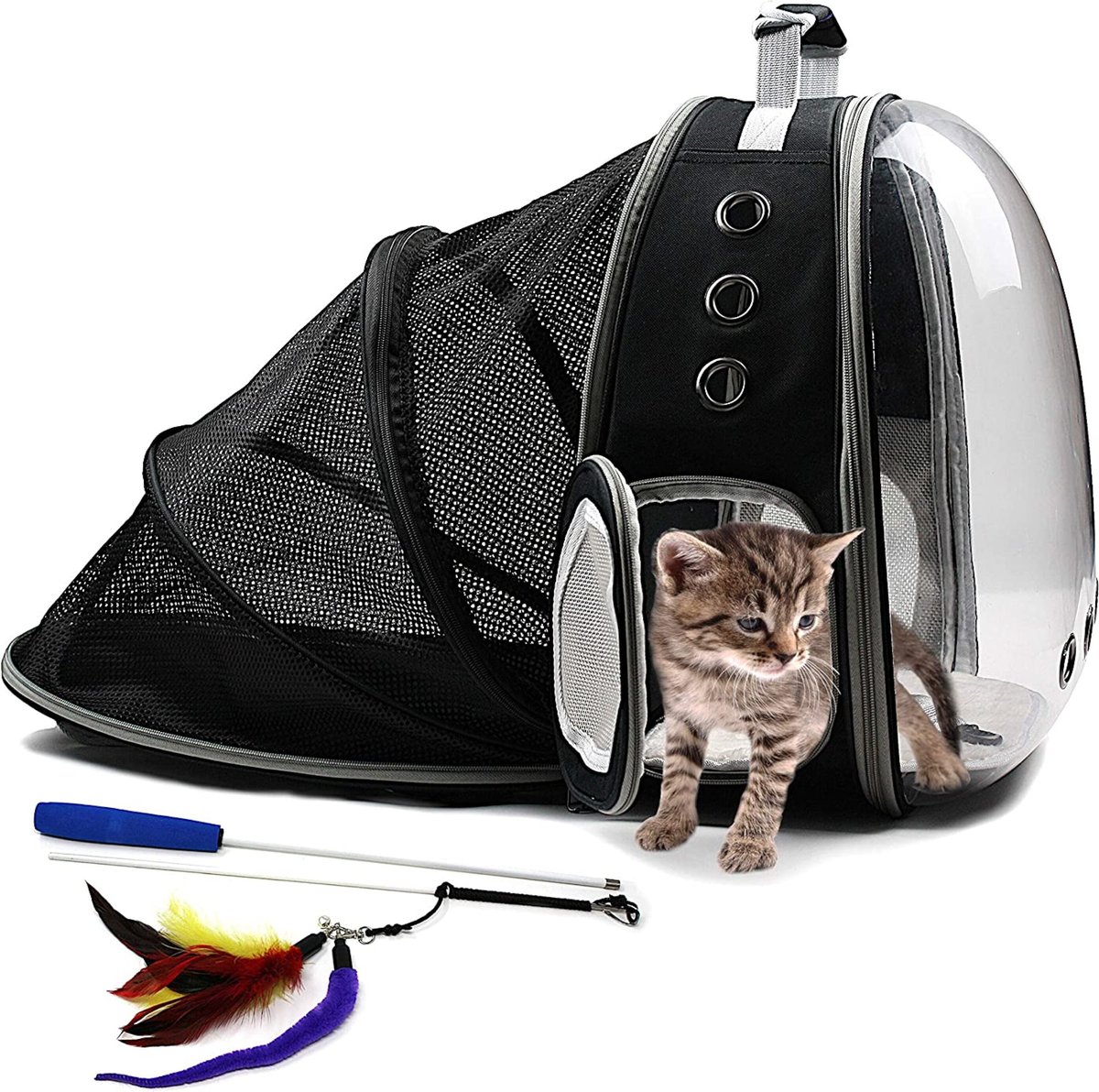 The Pet Fit For Life Cat Carrier Backpack is made with plenty of breathable mesh to help your cat stay comfy during your travels.
This expandable cat backpack is an excellent choice for the cat who needs a larger space to lie in, thanks to its ability to adjust from 11 inches to 27 inches by unzipping and unfolding the rear compartment.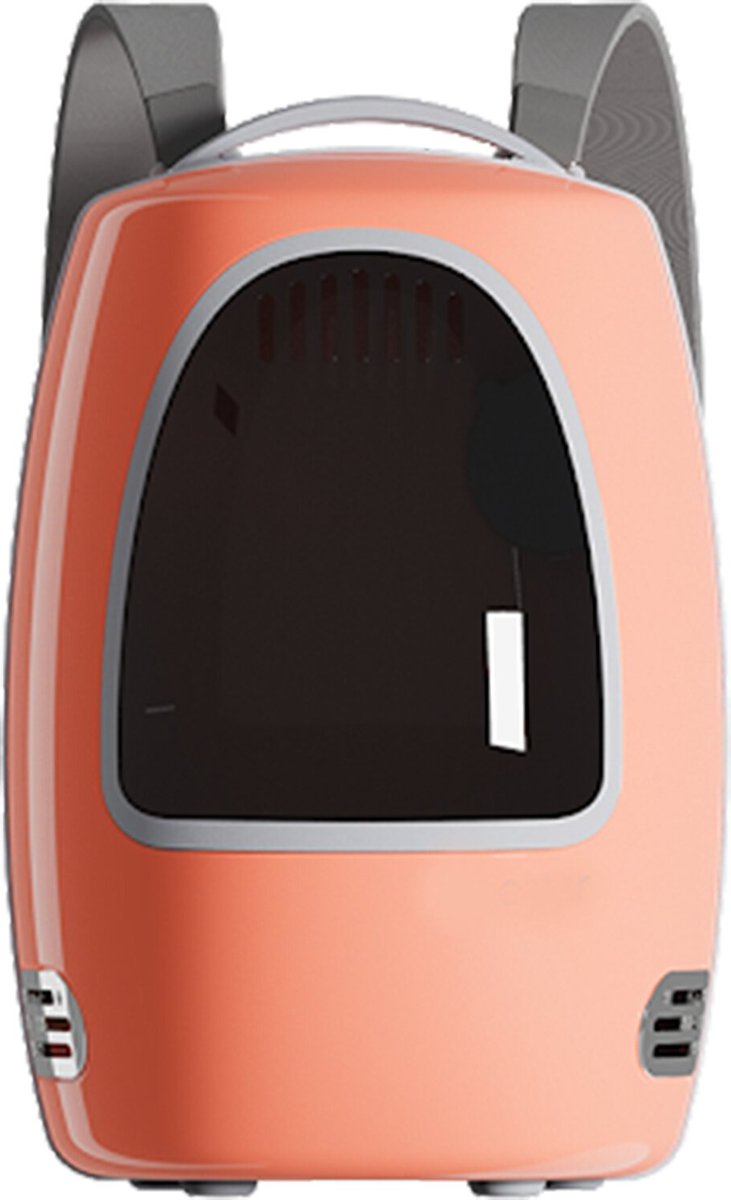 Petpod's Comfortable Backpack might be the coolest 'pack of them all (literally!).
As one of our favorite scratch-resistant cat bubble backpacks, this airy tote resembles a space capsule and includes a widened bottom area for your cat to move around in.
Thanks to a shock absorption system, this carrier can withstand long walks.
One of Pinterest's reported trends of 2022, "Oh My Goth" is all about embracing your inner goth. What does that mean? For starters, anyone who loves the color black (us, included!) will absolutely love this trend. And lucky for you, we've found a couple black 'packs worth strapping to your back.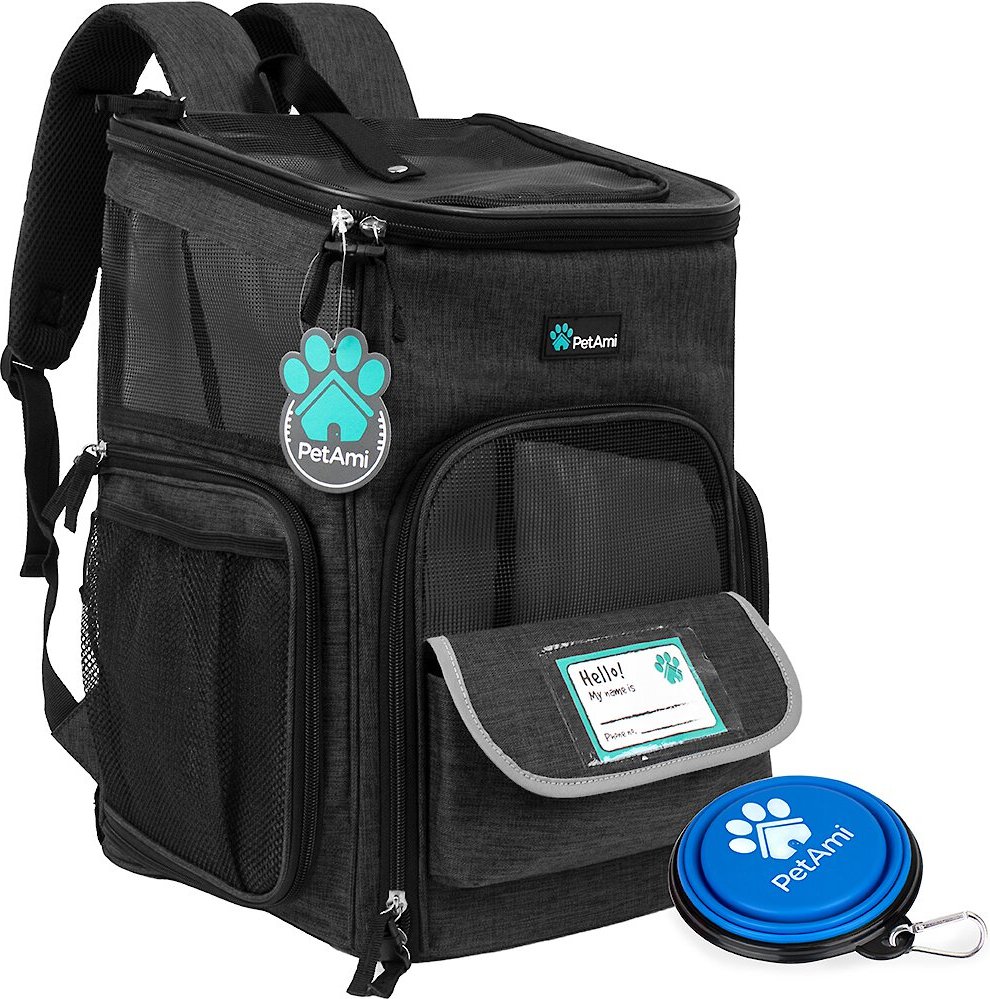 For a traditional cat carrier backpack that simply gets the job done, look no further than PetAmi Airline Approved Backpack Cat Carrier.
This comfy cat backpack is made with a waist strap and chest buckles to give cat parents extra support, making it great for hikes.
Plus, this cat carrier backpack can comfortably fit larger cats up to 18 pounds.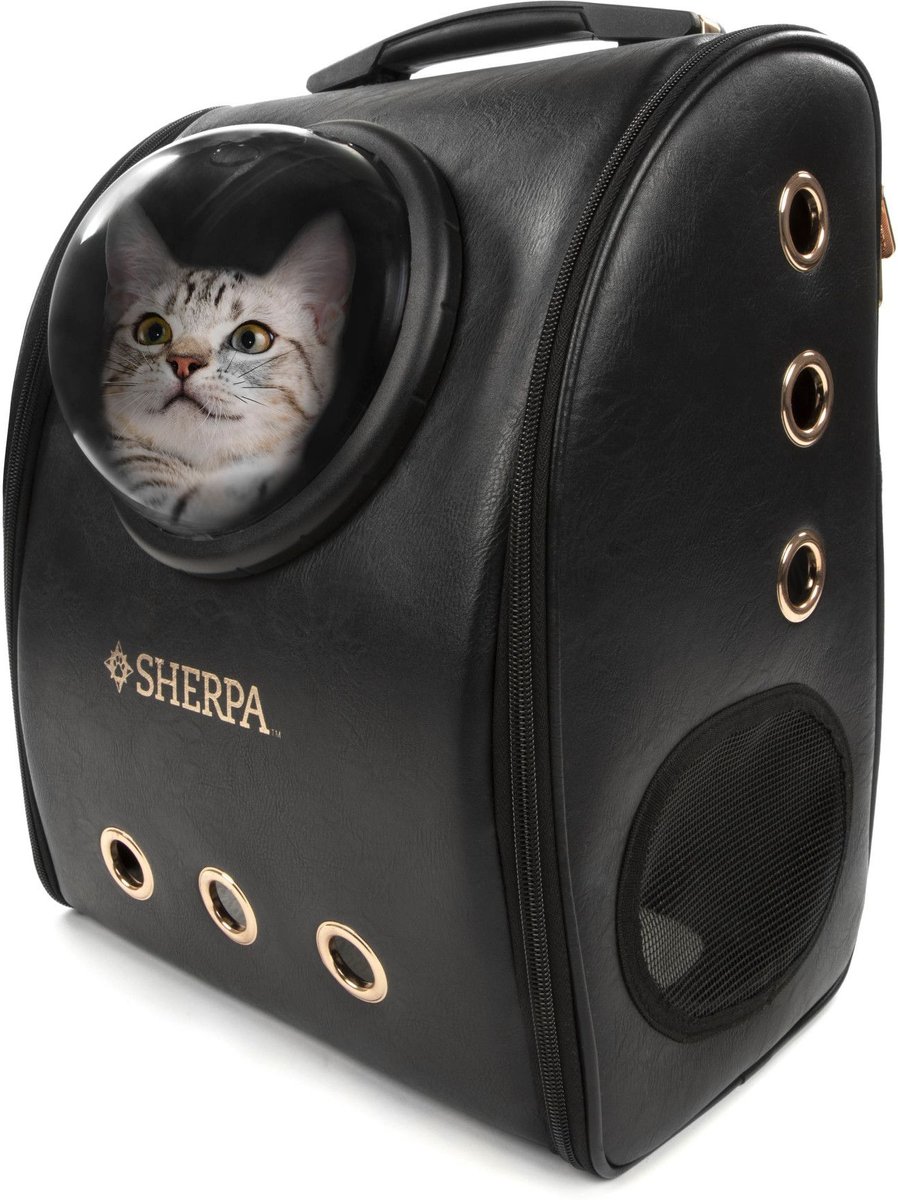 Oh hai, black, gothy backpack.
Also ranking in our top picks for cat bubble backpacks is the Sherpa's Airline-Approved Bubble View Window Cat Travel Backpack.
Best for cats of all sizes, this travel backpack is made with ventilation holes and zippers for extra safety and security.
With a machine washable liner for easy cleaning, this cat carrier can last through many trips.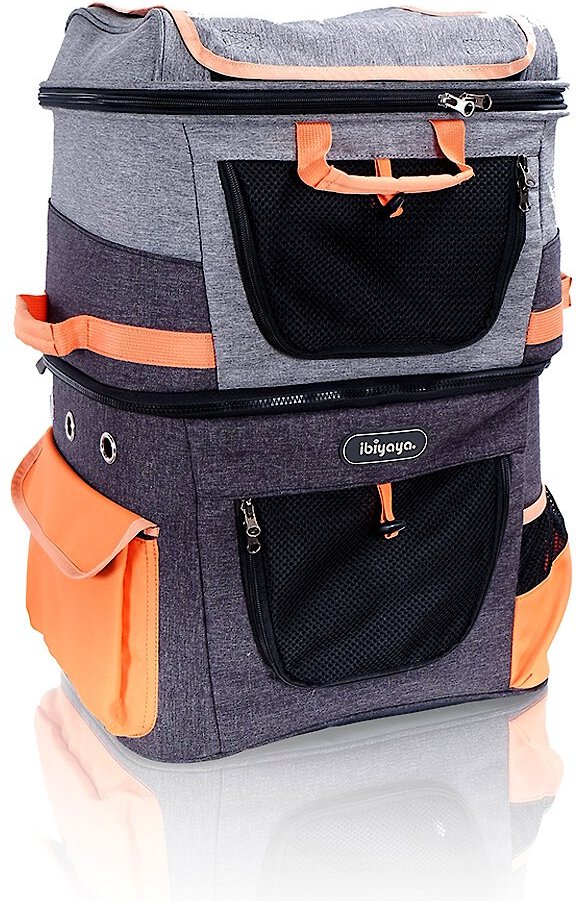 For those pet parents who plan to take their cat along with them on their next hike, consider ibiyaya's two-tier cat travel backpack, which gives off a very Halloween color scheme.
It boasts plenty of storage for your (and your cat's) accessories and features multiple mesh windows for plenty of ventilation—and great views.
Neutral Gray Cat Backpacks
For cat backpacks that'll match any 'fit, go gray. Our favorite neutral gray cat carriers work with all styles and tastes.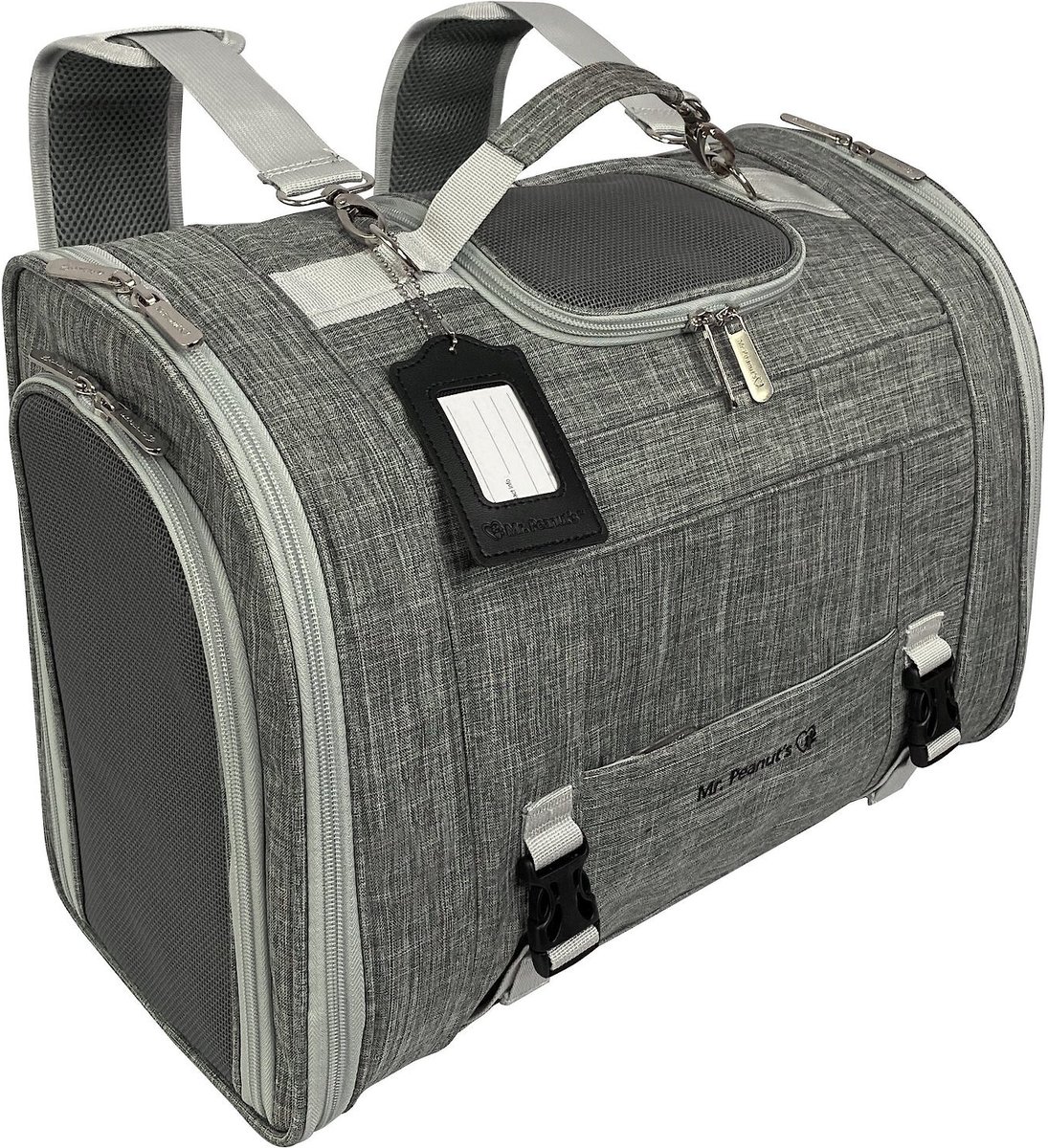 Take, for example, Mr. Peanut's Monterey Series Convertible Backpack: It's not only an excellent choice for smaller cats traveling by plane, but with its mesh panels on all four sides and automatically-locking zippers, you can rest assured your fur baby is safe in this stylish cat backpack carrier.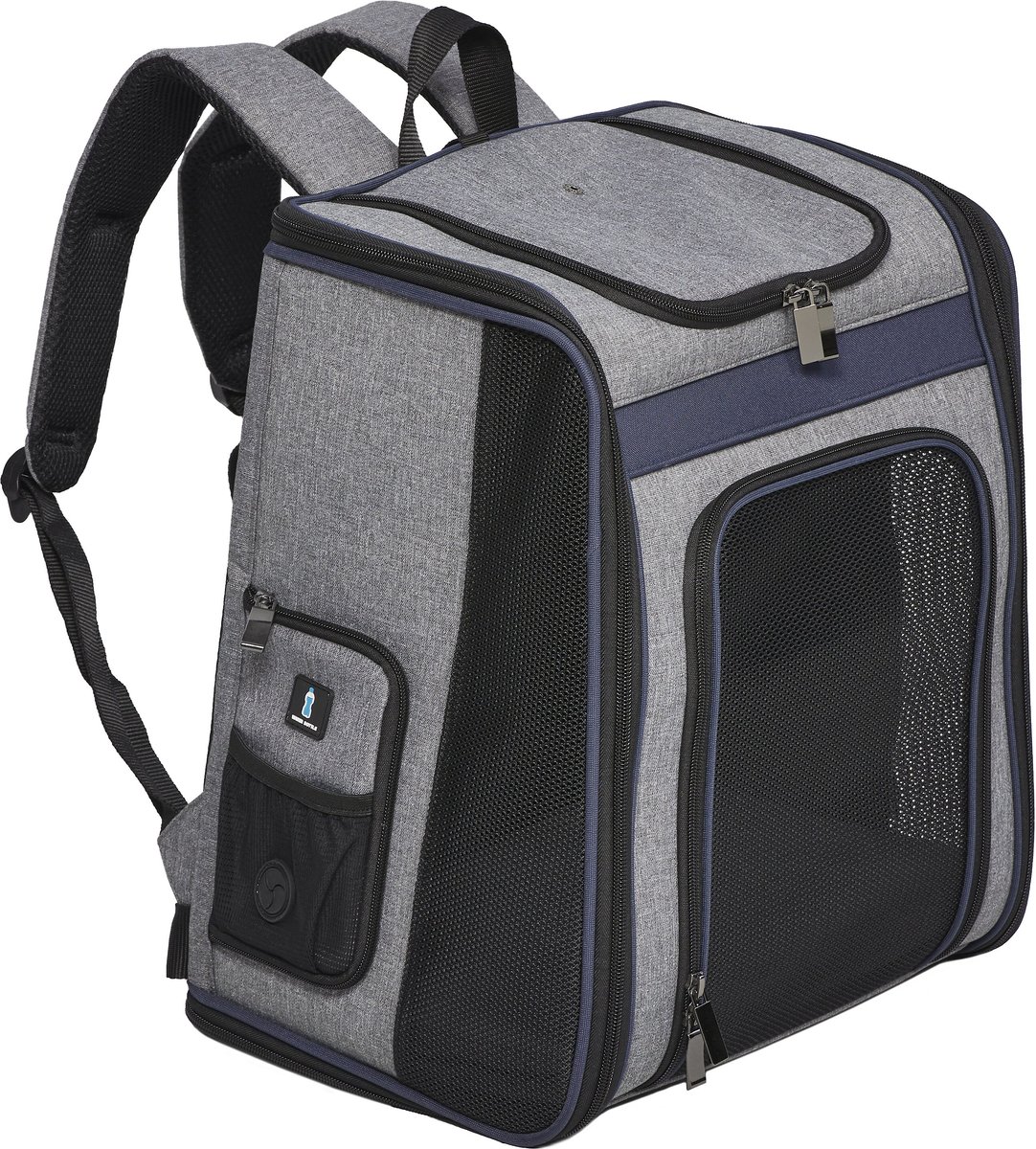 For a pet carrier backpack that matches just about any outfit (on you or your cat), look no further than MidWest's Day Tripper Cat Backpack.
Made with side pockets, mesh windows, padded safety straps and a buckled waist strap, this cat backpack lends itself well to hikes or long walks through airports, especially during extensive travel days.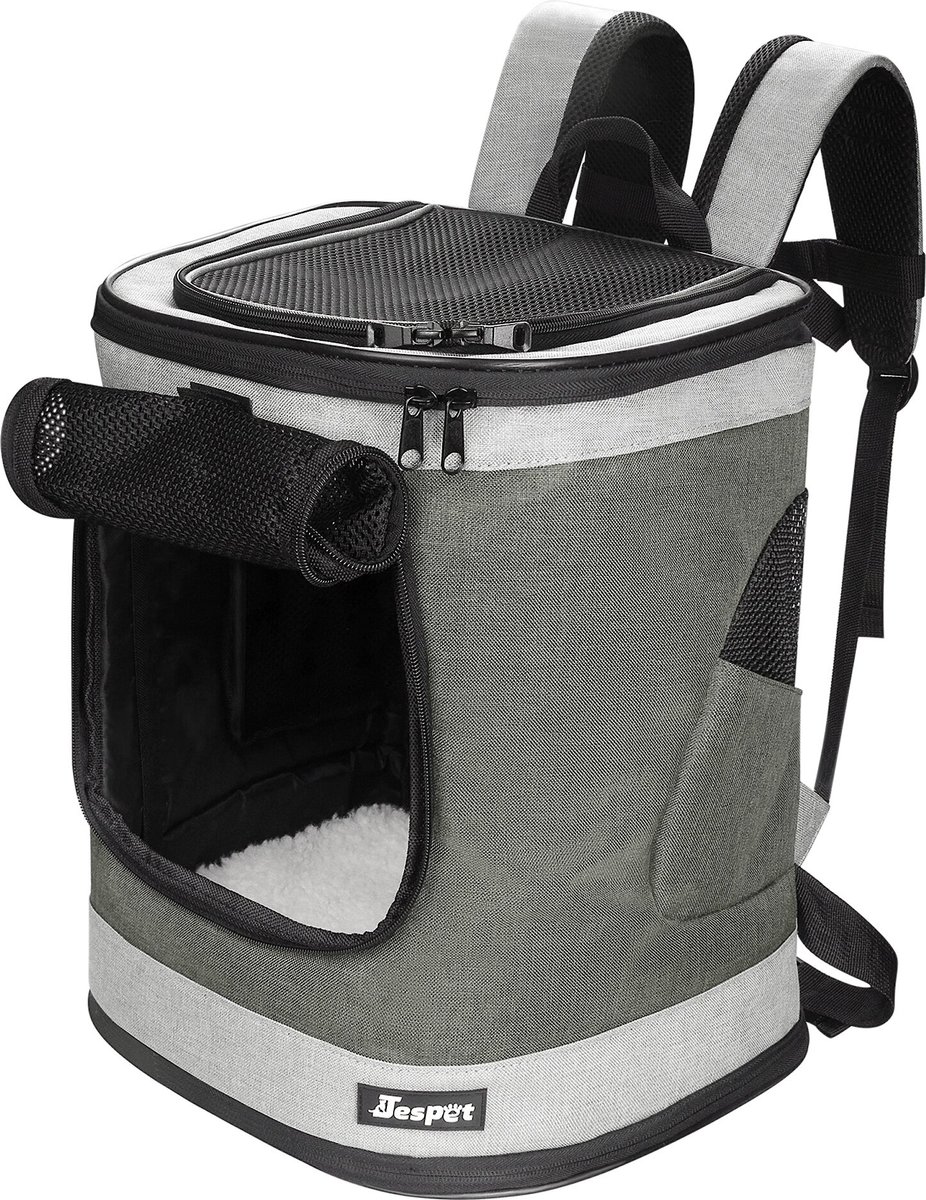 The ultra-cozy Jespet Cat Carrier Backpack features a removable washable fleece pad, which cats will enjoy sitting on during any type of travel.
As a great choice for camping or outdoor activities with its durable polyester material and padded shoulder straps, this cat backpack can withstand different weather and can be buckled into a car seat.
With one of these cat backpacks, you'll no doubt score an A+ for style and function.
The post 11 On-Trend Cat Backpacks Your BFF Will Want to Take a Ride In This Fall appeared first on BeChewy.